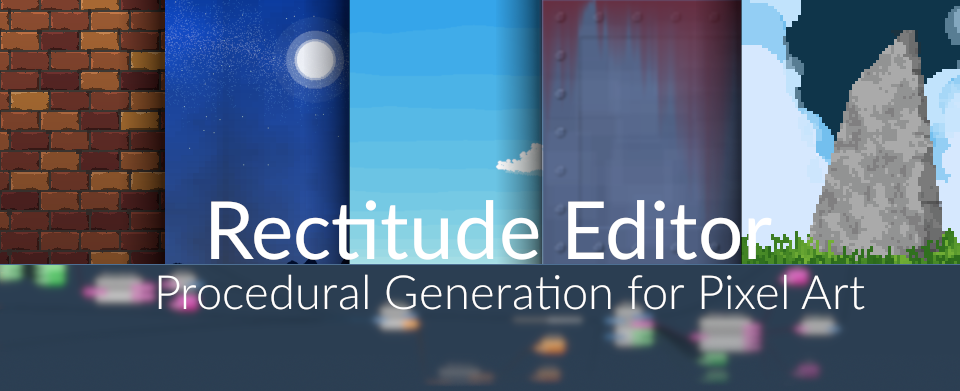 Rectitude : Procgen + Pixel Art (Beta)
A downloadable tool for Windows
Rectitude is a procedural editor that empowers artists to work freely, create multiple iterations and rapidly explore ideas.
In Rectitude, every action is stored in a node. These nodes are then combined into graphs which define generators. The values in a graph can be tweaked to refine its outcome or to create similar yet unique results. A graph can also be reused as a node in another graph to to let you build your own library of generators.

With rectitude, you can :
create parametric pixel-art textures or blocks
create a infinity of sprite variation. (like the spaceships)
create a complex scene (like a cityscape)
create animations, movies. ( experimental for now)
Take a look at the example projects :
Parametric Pixel Art Objects Set ( incoming )
Start now :

Build parametric pixel-art images
reuse them into bigger ones, up to a parametric scene?
export them as png, gif, mp4
You only need to learn 5 things :

how to add a node to the graph,
how to connect nodes,
how to use the basic transform nodes : cut, move, enlarge, colorize, etc.
how to change properties of the value nodes
how to export the generated image.
Download
Click download now to get access to the following files:
test-2019-09-08.zip
902 kB
Comments
Log in with itch.io to leave a comment.
is development still being done on this application?
Yes, but the next release is quite big. so I take my time. It shouldn't be too long though. But I have no excuse for more blogpost. I'll try to fix that.

thanks for answering my question
Do you plan to release a version for Linux at some point?
Maybe. Most of the code is platform agnostic, so this is mostly a time problem.

Alright, I will keep this tool in mind then.
I, too, would love a Linux (or even OSX) version, if you ever do it.
How should I send bug reports?